INTELLIGENCE-AS-A-SERVICE
"SOLTAR AG supported our initiative to increase the availability of spare parts for the entire Swiss market very professionally with a high level of technical/social competence. The INTELLIGENCE modules were essential success factors. We can therefore fully recommend SOLTAR AG".
Head of Supply Chain, Schindler Schweiz AG
"SOLTAR's methods and simulation tools have made an important contribution to significant inventory reduction and holistic inventory management."
Head Logistics, Sika Supply Center, Sika Konzern
"SOLTAR introduced us to the topic of Working Capital Management in a competent and practical manner and deepened our knowledge. The useful inputs have helped us to address the potential in working capital in a targeted manner."
Head of Business Unit Operations, Jowa AG, M-Industrie
"SOLTAR AG accompanies us professionally with their competence and structured approach in the context of Medsupply strategy development and the introduction of a supplier management system. We can highly recommend SOLTAR AG"
President Medsupply, Head of Purchasing, Kantonsspital Aarau
"SOLTAR provided Georg Fischer Piping Systems with professional, fast and competent advice on the benchmarking of logistics processes."
Head of Supply Chain, Georg Fischer Piping Systems
"With the INTELLIGENCE solution from SOLTAR AG, we have achieved increased transparency of our transport costs. SOLTAR took a very pragmatic approach and delivered actionable results."
Head Global Supply Chain Management, SIG
"The customer classification project with Sales+ has helped us to make our processes more customer-oriented and to increase the speed of order processing. SOLTAR AG provided us with professional support in the process improvement and change process with a high practical and implementation focus."
Managing Director, Georg Utz AG Switzerland
"The SOLTAR AG team has supported us very professionally with their know-how in the implementation of the disposition in the spare parts business. The ability to deliver was increased significantly. All milestones and the specified inventory targets were achieved to our absolute satisfaction."
Director Global After Sales, Ammann Schweiz AG
"We are very satisfied with the results of the 'Supplier Management' project and would like to thank SOLTAR AG for their support in this change process."
Purchasing Manager, Vectronix AG
"SOLTAR AG has professionally supported us in the transparency of purchasing and the design of a future-oriented procurement organization with its technical and methodical know-how. In doing so, the culture of our company was taken into account with great sensitivity."
CFO, Energie360°
"SOLTAR AG's supply chain expertise combined with their intelligence tools provides us with valuable support in the implementation of our S&OP E2E processes (Sales & Operations Planning End-to-End). SOLTAR AG is highly recognized for their contribution, so we can highly recommend them."
Head of Integrated Corporate Planning, Migros Industrie

SOLTAR AG offers intelligence-as-a-service with web applications, data management (incl. machine learning), audits and training in supply chain, inventory and supply chain finance management for manufacturing and service companies. The focus is on increasing cash flow to achieve a sustainable increase in the value of the company – in line with the motto "Chefsache Finanzen in der Supply Chain".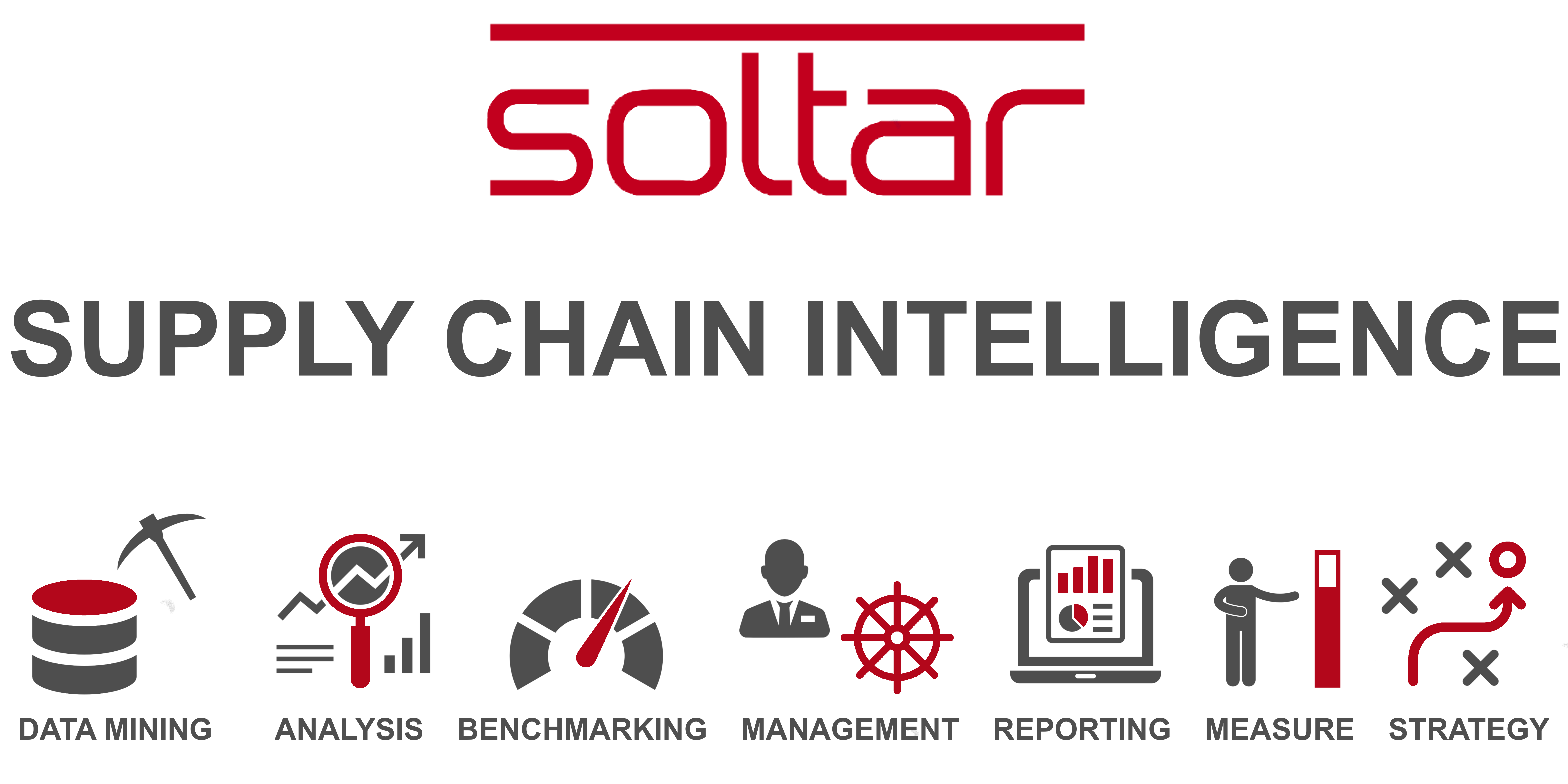 Inventory INTELLIGENCE
Supply Chain INTELLIGENCE
Finance INTELLIGENCE
as a Service

"Through strategically oriented purchasing and supply chain management, companies achieve sustainable competitive advantages and achieve higher returns on capital. The present book offers a holistic design model and provides well-founded and valuable support for practical application. "
Prof. Dr. Stephan M. Wagner
Full Professor of Logistics Management and Director Executive MBA, Swiss Federal Institute of Technology Zurich
"Reading the book and the lessons learned from it have given us a very good frame of reference in shaping our strategic field of action 'Value Performance'. We can therefore recommend the approaches described in the book."
Adrian Jungo
CEO head Supply Chain Management & CREM, Swisscom AG
"The cooperation of purchasing and supply chain with the finance functions in the company offers promising optimization opportunities. The book describes in a very practice-oriented way how these potentials can be used in the management of costs, working capital, taxes, capital costs and risks."
Dr.-Ing. Klaus Hauschulte
VP Operations, Siemens AG, Wind Power Division
"The interfaces between purchasing and the supply chain with the finance departments hold a lot of potential for increasing the value of the company. This must be tackled. 'Chefsache Finanzen in Einkauf und Supply Chain' provides an excellent answer and shows practical solutions. Recommended only."
Daniel Helmig
Head Global Supply Chain Management, ABB Management Services Ltd
"Purchasing and supply chain management are essential value levers for every company. This book is an excellent guide in which the authors Locker and Grosse-Ruyken bring their broad experience to bear and present new ideas for working capital optimization. The book is therefore highly recommended."
Peter Mohnen
CEO, Kuka AG
"Buyers and supply chain managers must also speak the language of top management if they want to act as equal and recognised partners of the company management. This book provides managers in purchasing and supply chain management with a very sound basis for fulfilling this role in the future."
Prof. Dr.-Ing. Raimund Klinkner
Managing Partner, IMX Institute for Management Excellence
""Purchasing and supply chain management are of high strategic relevance for us, as they substantially ensure the sustainable value generation of our company. An understanding of the financial interrelationships is a basic prerequisite for the effective management of supply structures and is therefore part of the tools of every manager. 'Chefsache Finanzen in Einkauf und Supply Chain' provides practical guidance and recommendations for our daily business."
Dr. Stefan Nöken
Member of the Executive Board, Hilti Corporation
"Absolutely worth reading for all those who want to understand the connections between finance and supply chain management and use them to their advantage in their company."
Adrian Bodmer
CFO, Denner AG
"'Chefsache Finanzen in Einkauf und Supply Chain' is not only an informative reference book for practitioners, but also a comprehensible compendium for students who want to understand and leverage the financial potential in the supply chain. The density of practice-oriented knowledge as well as the numerous company examples make the book a valuable read on the way to Supply Chain Finance."
Prof. Dr. Erik Hofmann
Titular Professor of Operations Management at the University of St.Gallen and Head of the Supply Chain Finance Lab at Swiss Post
"Modern purchasing has to overcome three major challenges. It must promote innovation in the company accompany you. It must support the topic of sustainability with the divisions and it must demonstrably add value for the company. This book 'Chefsache Finanzen in Einkauf und Supply Chain' is a book for practitioners and students who want to understand the financial potential in the supply chain. want to understand and apply Chain. Through the practice-oriented knowledge and the many company examples the book becomes an extremely valuable companion on the path of continuous 'value creation' in Purchasing and the supply chain."
Axel Butterweck
Head of Corporate Purchasing, Post CH AG
"The strategic and conceptual principles in the book 'Chefsache Finanzen in Einkauf und Supply Chain' have inspired me to think a lot. I recommend that the CPO and CFO retreat to an alp for a few days to work out the strategic, operational and organizational implications of the urgently needed integration between purchasing, supply chain and finance. Seldom will the payback time be so short!"
Adriaan 't Gilde
Head of Corporate Purchasing, Geberit International AG
"Financial concepts as a new dimension in purchasing and supply chain management go far beyond the optimization of costs, quality and delivery dates. They offer many opportunities to activate further success potential of financial value drivers such as invested capital, cost of capital or taxes. The authors of 'Chefsache Finanzen in Einkauf und Supply Chain' succeed in presenting the whole range of hidden value levers in an extremely practical and applicable way."
Prof. Ulrich Thonemann
Ph.D., Head of Seminar for Supply Chain Management and Management Science, Universität Köln
"The greatest potential but also risk lies in the supply chain with global supplier networks. Purchasing, in close cooperation with Controlling, must keep total costs along the value chain and sustainability under control. This book offers a good mix of theoretical concepts, comprehensible practical examples as well as strategic approaches and operational implementation."
Dr. Patricia Hurschler
Head Direct Procurement RDI, Roche Diagnostics International AG
"Achieving financial results is more than reducing costs for purchasing. The value levers also lie in improving supply chain performance, optimizing tied-up capital and risks. Chefsache Finanzen in Einkauf und Supply Chain is recommended reading for all those who want to activate a wide range of value levers in purchasing."
Ralph Koch
Head of Supply Chain, Schindler Aufzüge AG
"We are strategically developing our purchasing into a supply chain management function with a focus on the external value chain. A key issue here is the transition of financial targets into concrete KPIs for the supply chain. I found the reading of this book and the 3 + model developed by Locker and Grosse-Ruyken very helpful, as it is precisely this interface that is examined in depth. From my point of view it is absolutely recommendable!"
Robert Ohmayer
Vice President Corporate Purchasing, J.M. Voith GmbH Beteiligungen KG
"Taking into account the view of shareholders and top management in purchasing and supply chain management is represented in many facets in an application-oriented manner by 'Chefsache Finanzen in Einkauf und Supply Chain'. A valuable contribution to entrepreneurial practice."
Christoph Eisenhardt
President & Chief Executive Officer, Volex Plc
"This book offers in breadth and depth an excellent guide to develop financial orientation in purchasing and supply chain into a real success factor for the company."
Andreas Koch
Head of Supply Chain Management, Member of the Executive Board, Galexis AG