SUPPLY-CHAIN-INTELLIGENCE-AS-A-SERVICE

"SOLTAR provided Georg Fischer Piping Systems with professional, fast and competent advice on the benchmarking of logistics processes."
Head of Supply Chain, Georg Fischer Piping Systems
"With tender+ from SOLTAR AG, we have gained increased transparency of our transport costs. SOLTAR took a very pragmatic approach and delivered actionable results."
Head Global Supply Chain Management, SIG
"The customer classification project with Sales+ has helped us to make our processes more customer-oriented and to increase the speed of order processing. SOLTAR AG provided us with professional support in the process improvement and change process with a high practical and implementation focus."
Managing Director, Georg Utz AG Switzerland
"We are very satisfied with the results of the 'Supplier Management' project and would like to thank SOLTAR AG for their support in this change process."
Purchasing Manager, Vectronix AG
"The customer classification with sales+ enables us to work the market in a more targeted manner in order to increase sales efficiency and profitability."
Managing Director, Unterland Flexible Packaging, Mondi Group
"SOLTAR supported us very professionally from the analysis, identification of improvement potentials in the supply chain to the implementation of a new supply chain organization. Today we are in the process of implementing the results and have already achieved some important initial successes."
CEO, SwissPrimePack AG
"SOLTAR AG has very professionally accompanied various optimization initiatives of Gissler & Pass Supply Chain, such as inventory optimization, the necessary implementation of new order and order processing processes, as well as the preliminary study, selection and introduction of a PPS system. The measures help to achieve significant improvements. We can highly recommend SOLTAR AG."
Managing Director, Gissler & Pass GmbH

Transparency of data quality
Determination of actual and target performance (lead times, quality, costs) and drivers (analytics)
Segmentation and classification of articles, services, customers, suppliers and supply chain
Segment-specific simulated feasible targets for throughput times, quality and costs
Partially automated data cleansing and completion according to company-specific business logic
Application of artificial intelligence (machine learning) for master data enrichment, planning and forecasting (forecast, times, quality, costs)
Fully automatic data exchange
Visualization of key figures in online dashboard
Online access to key performance indicators (KPI)
Continuous improvement with clear priorities
End-to-end view with performance benchmarking
Display of priorities for the Daily Business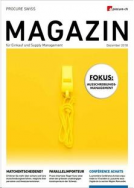 Procure Swiss Magazin
Empty
Finanztagung 2019: Einkaufsintelligenz
Empty
Dr. Alwin Locker
Empty
Empty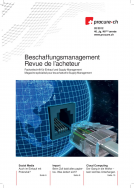 Engpassmanagment – 10 Lessons Learned zur Verbesserung der Lieferfähigkeit
Dr. Alwin Locker
Ursula Wirz
Axel Girod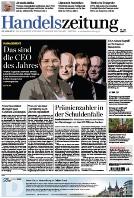 Grosses Potenzial für Kostensenkungen
Empty
Dr. Alwin Locker
Robert Einstein
Empty